Fortune telling by AUDIOTEL :
Cabinet of Fortune telling :
The consultation clairvoyance audiotel offers certainly less advantage than the consultation clairvoyance in private (CB) but has assets. It does not require to use the CB what, for certain user, can be simpler. You can control the cost of your call. A consultation audiotel clairvoyance allows you moreover to test the capacities of a clairvoyant in particular, which interested you, and if you wish it, thereafter, to consult it in consultation of private clairvoyance for a consultation of clairvoyance more thorough and better controlled. Thanks to the listening room. Here again you will find the availability of our audiotel clairvoyants on our planning page, which will allow you to choose the desired advisor in advance.
Process of connection for a Consultant in audiotel.
The customer via an 8AB number once the MGIT (general tariff information message) is issued the customer is charged

Voice message indicating the choice of psychics Routing to the number 8AB dedicated to the psychic if he is already in communication then he can either choose another psychic or listen to the conversation (the lounge). This is how the service becomes profitable.
Because this expectation is of course monetized. Here is an example of Dashboard audiotel clairvoyance: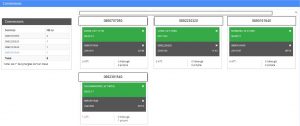 The most of allopass

Interactive scheduling

Plan the availability of the consultants.
Automatic prioritization with the ration calculation of the consultants.

Connection display

Dashboard to see which consultants are online with the duration of the conversation.
Send if the client is in communication or in the room.
Recover customer data (phone numbers).

Real time call control panel

Global statistics

History and recording of conversations
Statistics available in CSV

Dashboard allowing you to see your earnings and TMCs