For micro-payment services (less than €20) your customers may not have a bank card, may be reluctant to use it for a few euros, or may even be afraid of fraud. Allopass therefore allows you to present your customers with the payment methods offered by telephone operators, in addition to the CB allopass aggregates:
Payments from cell phones.

Payments from fixed phones.

Payments from cards or accounts (CB, paypal, etc.).
allopass allow :
One time payments with le Direct Carrier Billing (DCB),  I+ Mobile or CB.

Pay-as-you-go payments with Premium SMS (PSMS), with Premium Numbers, or CB.
And all this from a simple script in France and Europe
Example of allopass carrousel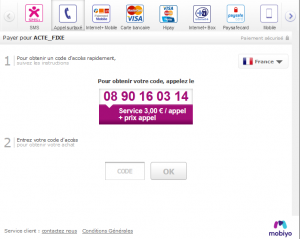 With a simple script to add on your site, you give your customer the possibility to choose the payment method he wants.
Although strongly positioned on micropayment, allopass is also able to accompany you on the use of bank cards. allopass allows :
One click" payment thanks to the memorization of banking information (our partner Hipay is PCI DSS).
Recurring or one-time payment.
allopass has a customer support service that you benefit from automatically at no extra cost. Thus, the requests for refunds are processed upstream of the organization managing the CB
For a service provider, recurring sales is the most efficient business model. With an average of 8 payments per subscription, the revenue can support acquisition costs higher than the revenue generated by the first payments. Recurring sales generate significant profits. allopass allows :
Direct Carrier Billing is the best mobile payment.
Direct Carrier Billing est une méthode alternative de paiement.
Direct Carrier Billing est la méthode de paiement ayant le meilleur taux de conversion.
allopass allows :
Sell subscriptions to your customers who surf from their desktop as well as on their cell phone thanks to Direct Carrier Billing (DCB in Europe or Internet+ "I+ Mobile" in France).

Sell with Act on Direct Carrier Billing (DCB).

To sell in one click (3G connection, or with One Time Password (OTP) in Wifi.
As Direct Carrier Billing (DCB) or Short Messages Surtaxed Services (PSMS) are only accessible from a cell phone, telephone numbers (Surcharged Value Added Services, also called Audiotel or Audiotex) compensate for this situation as they are accessible from all phones. The strong point of this means of payment is its universality (since it is available from mobiles but also from landlines).
SMS+ is a multi-operator solution, by simply sending an SMS, a publisher can sell a proposed service.
What could be simpler than sending an SMS to make a purchase?
With the full European coverage of allopass, very easy to implement, the Short Messages Surcharged Services (SMS+) allow access to a monetized content up to 4,5 € in France and sometimes more in Europe.
Currently, SMS+ is one of the most used micropayment methods.