Scripts are HTML coded programs which, once integrated into your source code, will protect your documents and make users pay to have access to them. They are particularly easy to install.
Once you are logged in, click the header "My account", and then "My products".
Step 1: Creation of a site
You are led to a home page listing your sites. A site is a group of products that you wish to protect. A name has to be given for each group of products (site) that you wish to monetize, even if your site includes only one product. To create a site you just need to click on the link: "add a site" and fill-in the form.
All your sites are then displayed as a list.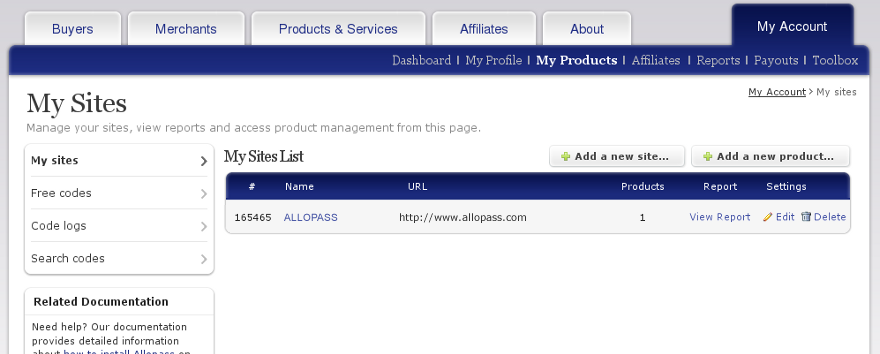 Step 2: Creation of a product
Once you have created your site, click on the site name in the "Name" column to register the information about the product you want to protect. You are then redirected to the product creation interface. A product can be created by clicking on "Add a new product".
At the end of that procedure, you have to fill several forms about the technical details you want to apply to your product.
Site: choice of the site on which the product will be installed..

Product: address of the different pages the users will be directed to; creation of your test code; validity period of the codes.

Pricing: countries where you grant access to your site, price-points, number of Allopass codes required to access your product.

Confirm: confirmation page
Step 3: Script integration
Once the site and the product are created, you can find your product in the list of products.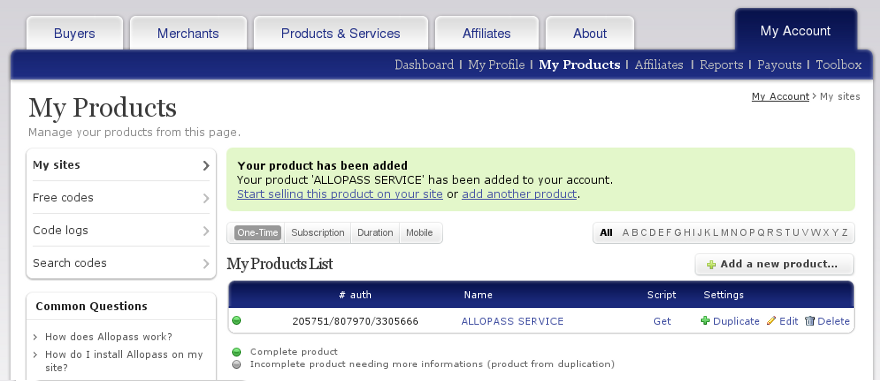 Click on "Get", a new page opens, in which we explain the whole script installation procedure, with some practical pieces of advice. The script itself can be installed with a simple copy/paste into the source code of your product.
Two scripts need to be integrated in your source code. You will be able to choose the language and format of those scripts.
- The first one is a payment script. It displays the premium numbers, provides the range of payment methods to choose from, and the code-capturing field. You can choose to display this script via a payment pop-up or an iframe.
The pop-up allows you to modify the graphic charter. Please note that if you edit the prices of your product, you have to reinstall your pop-up script.
The iframe updates your prices automatically and reduces the number of clicks your users have to make to finish their payment.
- The second script manages accesses, protects the confidentiality of your URL and guarantees the security of your page. It is based on the use of a cookie. If you wish to install a protection in php language, you will find all the necessary information under "Help and support" after clicking on the "Go to all technical guides" link.